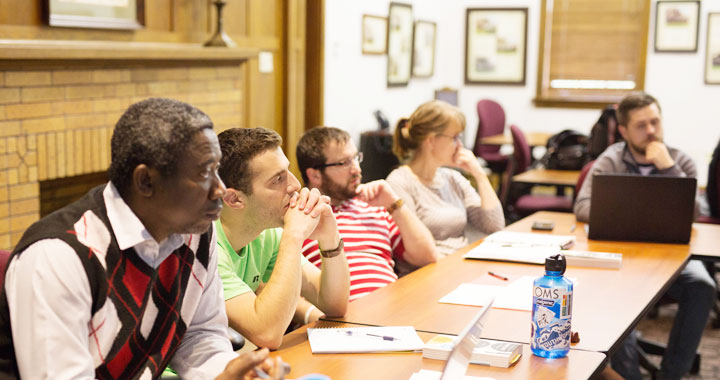 Master of Theological Studies
Students may concentrate in Biblical Studies, Black Church Studies, General Theological Studies, History of Christianity, Practical Ministry Leadership, Public Theology, or Theology and Ethics. The capstone of the 40-credit hour degree is a two-part extended essay on the student's area of concentration. The flexible degree offers Trinity students the opportunity to focus on the academic topics they are most interested in small classes that promote rich discussion. For the sake of the mission of the church, graduates of the Master of Theological Studies degree program will demonstrate the ability to:
Use appropriately the resources of scripture and the church's historical and theological traditions.
Integrate core themes and concepts from their area of concentration.
Apply their learning to a significant question or issue in their area of concentration.
What can you do with a degree in this academic area?
Ministry
Non-Profit Leadership
Teaching
Personal and Intellectual Enrichment
12:1
---
Student to Faculty Ratio
1830
---
Trinity Lutheran Seminary at Capital University Founded
50%
---
of the Required Courses May be Taken Online
Sample Classes
Intro to Womanist Theology
Reading the Contexts
Theology of the Prophets
Faith Seeking Understanding
Our Humanity: Creation and New Creation
Seven Deadly Sins
Learn More
Remote Learning Opportunities
Both full-time and part-time students have the option of completing up to half of their degree as remote learners participating in hybrid classrooms. This is a popular option for part-time students with full-time employment who have time enough to take an early afternoon class, but not enough time to drive across the city, take the class, and drive back to work. It is also a popular option for students who commute to campus one or two days a week in some semesters but cannot commute for each day of class. Commuters often take advantage of the opportunity to take week-long intensive courses during the semester, as well as May-term classes and summer courses, which usually take place over one or two weeks.
Academic Requirements
For the degree, 40 semester hours of coursework are required, with 15 credit hours of core courses, 15-18 hours in the student's concentration, and the remaining hours as electives. The degree is typically completed in two years. The Master of Theological Studies degree requires a two-part extended essay (2 semester hours total). With the approval of faculty, a student may choose to complete a thesis (4 semester hours total). Additionally, joint degree programs are available, including a Master of Theological Studies/Juris Doctorate (M.T.S./J.D) and a Master of Theological Studies/Master of Science in Nursing (M.T.S./M.S.N.).
Financial Aid
Most Master of Divinity (M.Div.) students receive full-tuition scholarships. To be considered for a scholarship, complete an application for admission, complete the Trinity Financial Aid application, and turn in the FAFSA.
Accreditation
Trinity Lutheran Seminary at Capital University is accredited by The Association of Theological Schools (ATS), an organization of seminaries and other graduate schools of theology. Founded in 1918, the ATS has more than 270 member institutions and works to promote the improvement and enhancement of theological schools to the benefit of communities of faith and the broader public.
"My experience of doing theology at Trinity has been a dialogical affair– one in which students and professors inform and shape each other. A person can come to Trinity as their whole self and embrace the God who led Israel out of bondage in Egypt and all people out of the slavery of Sin and Death."
-Naomi Morgan, Trinity Lutheran Seminary, MTS 2024